Value Management and Engineering
Value Engineering focuses on the expected outcome of a project and shouldn't be confused with reducing scope to meet the budget. Once the outcome is clearly established, understood, agreed and defined, the process addresses the question of how the project will be delivered.
Rawlinsons believe that Value Management should be done for all projects, it is an inherent part of what we do, and provides an exceptionally powerful tool to explore a project's objectives and aspirations from the client's perspective.
Rawlinsons add value by ensuring that all project and stakeholder objectives are achieved during each stage of the process:
Identification – awareness of the risk; this can be cost or viability or construction risk.
Assessment – Estimate the likelihood and impact; what is the likely outcome.
Evaluation – Judge the action required; what steps need to be taken to negate or reduce the risk.
Management – Implement the solution to reduce, control or ameliorate the risk.
Review and Update – Ensure the risk is kept live and is managed and reviewed regularly.
Rawlinsons offer Value Management services, a structured process through which the various elements and functions of a project or process are critically analysed to ensure maximum value for money. It ensures proper emphasis is placed on the facilitation process to unite creative problem solving with systematic cost management, the primary benefits of a value management exercise are:
A clear definition of what the owners and end users mean by value, thus providing a precise basis for making decisions throughout the project;
Optimising the balance between differing stakeholder needs and expectations;
Creating a clear project brief that reflects the project sponsor's priorities and expectations, expressed based on value and function;
Improved communication between all the stakeholders so that each can understand and respect the other's constraints, expectations and requirements;
Ensuring the project is the most effective way of delivering business benefits and satisfying business needs;
Providing a functional basis for design development and management, through improved communications, mutual learning and enhanced collaborative working, leading to better technical solutions with enhanced performance and quality, often through innovative solutions;
Measuring value, considering monetary and non-monetary benefits and thus demonstrating value for money;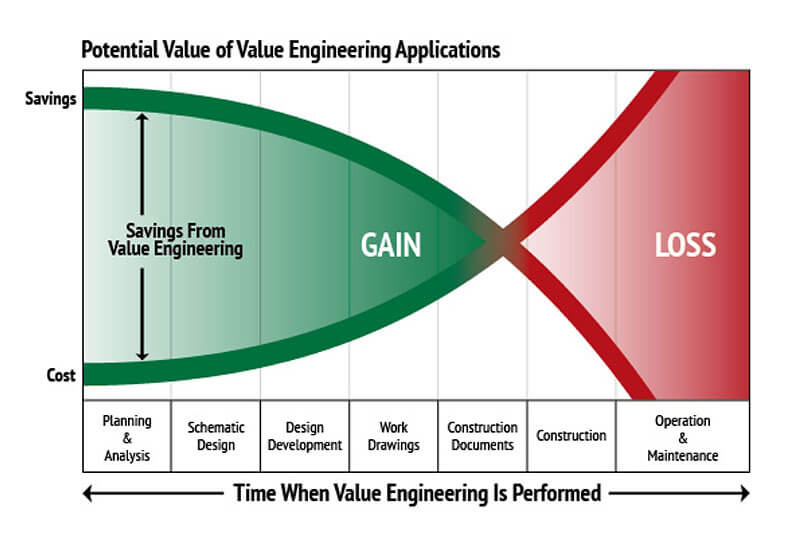 Delivering Intelligent Cost Solutions
with remarkable results.